Feel the vibe of ancient Maya cities
Playa del Carmen. - A place to enjoy live, relax. This place invites you to fulfill dreams and back. Playa del Carmen has it all ... Sun, sea, moon, romance, tranquility, adventure, extreme, culture. A magical place!
Just as the Riviera Maya with its nature and its ruins are full of life and history, fascinating to find everything in one place ... Mexican Paradise!
For vacationing alone or with The Riviera Maya welcomes you to make your dreams come true. Come, do not think twice and let go of this state who is waiting with open arms to bring you the best and you take home a unique and unforgettable experience.
Ecoadventure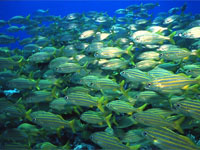 SIAN KA'AN BIOSPHERE RESERVE. According to the Diccionario Maya Cordemex, Sian Ka'an means spell or godsend. This name is associated with giving the old inhabitants of the region, the southern part of Quintana Roo. Located on the east coast of the Yucatán peninsula, this biosphere reserve contains tropical forests, mangroves and marshes, as well as a large marine section intersected by a barrier reef. It provides a habitat for a remarkably rich flora and a fauna comprising more than 300 species of birds, as well as a large number of the region's characteristic terrestrial vertebrates, which cohabit in the diverse environment formed by its complex hydrological system.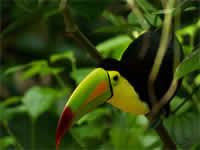 AVIARIO XAMAN-HA. Beautiful and pacific...it's a special place that allows you the direct contact with the nature. Xaman-Ha, it's the way that our mayas ancestors used to name the area and it means "North water". We have 200 animals of 45 different species. It's an ideal space to enjoy with all the senses, to be relaxed, to observe, to listen and to learn of the nature, seeing and hearing the birds flying in freedom. We don't have only birds also we have other animal species like the beautiful butterflies, "iguanas", turtles and other small mammals that share this space in perfect harmony.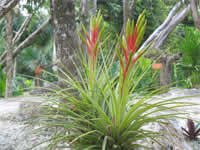 JARDÍN BOTÁNICO DR. ALFREDO BARRERA MARÍN. It is an area for research and conservation of flora and fauna resources. Can be seen in the wild vegetation in their natural condition. It can be run through a path of 2 km. In the garden, there are several bases Maya called "The Altar", which correspond chronologically to the Late Postclassic (1400 AD) Its conservation is regular and have not been looted. In this area are propagated plants of the region, mainly endemic, rare, threatened and endangered species. The wildlife is diverse and interesting, with frequent visits from flocks of spider monkey, also detected the presence of big cats such as jaguar, puma and ocelot, and other animals such as iguanas, snakes, foxes, cereques, curassow , badger, bear hormigero among others. There is great diversity of insects, and numerous migratory and resident birds.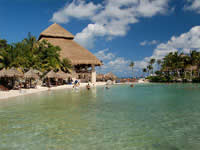 XCARET Perfect for families, this amazing ecological-archeological park, just south of Playa del Carmen, marries nature and culture to inspire awe. The experience is somewhat surreal for snorkelers floating in clear subterranean rivers, canals and tunnels. Other forms of fun include swimming with dolphins, diving without a tank (Snuba) and strolling underwater in a helmet (Sea Trek). An aquarium lets visitors explore the Great Maya Reef without getting wet. Pathways lead through the jungle to a Maya village, archeological site, aviary, botanical garden, butterfly pavilion and sea turtle area. Each evening, Xcaret puts on a huge extravaganza in its dinner theater, spotlighting ancient Maya traditions. Three hundred artists take the stage and wow visitors with Mexican regional culture, music and dance. Do not miss this show.
Maya Culture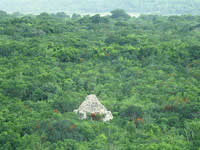 COBÁ ARCHEOLOGICAL SITE. The sites of Coba, are around some lakes, and are highlighted The Church, which is a sanctuary ( "Macanxoc"), where you can see Maya stelae with historical accounts and Nohoch Mul, the tallest pyramid in the Yucatan peninsula that rises 42 meters, you can climb the 120 steps of the pyramid to get an incredible view of the jungle and other structures on the site. Another pyramid called the Temple of the Church, which is the second highest in Coba. From above you can have a magnificent view of Lake Macanxoc, one of two lakes near Coba, which is particularly rare in a region like say esta.Arqueólogos Coba was one of the largest ancient Mayan cities. The site thinks there are more than 6,500 structures in an area of 50 km2 at its peak flowering, about 750 BC, it is estimated that inhabited the city of Coba, about 50,000 Maya.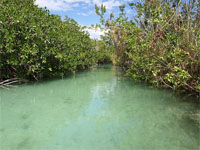 MUYIL ARCHEOLOGICAL SITE. Considered one of 20 archaeological sites importants of the country for its size and the amount of pre-Hispanic ruins, Muyil Archaeological Zone, is one of the few sites that combines historical charm with lush vegetation and stunning scenery of the Caribbean Sea . Muyil, named after the vocative of one of two adjacent gaps (Muyil and Chunyaxché) represents one of the best preserved sites of environmentally protected reserve, a fact which makes it an attractive place for those interested in our history and live with nature. Muyil is the most notable of the 22 pre-Hispanic settlements within Sian Ka'an Biosphere Reserve is surrounded by the lush jungle vegetation, wonder comes at a time when one comes across a temple 17 meters high known as The Castle on its top is a temple that looks like a turret, it which makes it an atypical structure for the region. In the east, the imposing structure has a stucco frieze with gray herons and decorations. Sacbeob connected the various buildings of the site. Muyil sits right along the highway, 14 miles south of Tulum and seven miles inland from the sea, and is open 8 a.m. to 5 p.m.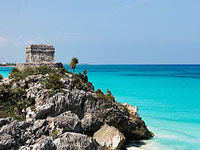 TULUM ARCHEOLOGICAL SITE. The archaeological site of Tulum get straight dawn. This strength of 900 years old is surrounded by a huge wall on three sides close to the ground. Tulum is one of the most representative Mayan ruins of the Mayan Riviera. Within the fortifications there are some 50 buildings, many of which were dedicated to the worship, others were administrative buildings or places of residence. Tulum is one of the ends most famous of the Mayan Riviera, which runs north near Cancun, the popular Caribbean beach destination. The ruins of Tulum and the coastal landscape are an exquisite combination: a place that offers eco-tourism among paraisíacas historic buildings and beaches of white sand and turquoise sea, in a very relaxing atmosphere.